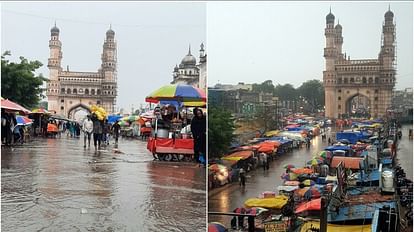 Hyderabad witnessed unseasonal rains in several parts of the city on Thursday.
Photo: ANI
Expansion
Rain has been recorded in many parts of the country. Meanwhile, the Meteorological Department has asked farmers to postpone harvesting of mustard crops in Punjab-Haryana, wheat and pulses in central Maharashtra-Madhya Pradesh. In fact, due to the Western Disturbance, the rain has given relief from the heat, but has increased the challenges for the farmers. Snowfall has also occurred in parts of the hilly states of Uttarakhand and Himachal Pradesh.
The India Meteorological Department (IMD) said that mustard should not be harvested in Punjab and Haryana till the rains stop. If already harvested, store in safe places to avoid damage. Stop irrigation of wheat crops. The Meteorological Department has asked to make arrangements to protect apple, pear, plum and peach orchards in Himachal Pradesh-Uttarakhand from hail. The same advice has also been given for fruit orchards in Madhya Pradesh and Maharashtra. For the farmers of Rajasthan and Madhya Pradesh, the IMD has suggested harvesting of ready-made mustard, gram and wheat as soon as possible and keeping them in a safe place.
According to the IMD, the maximum temperature in the plains of the country is between 33-37 degree Celsius. These are near normal or below normal in most parts of the country. On the forecast released by IMD for the next two weeks on Thursday evening, the Extended Range Forecast (ERF) said that interestingly, in the second week of March 2023, heat wave conditions do not prevail over most parts of India. This happened due to favorable synoptic system and active Western Disturbance over North India.
,



Read More about Breaking News