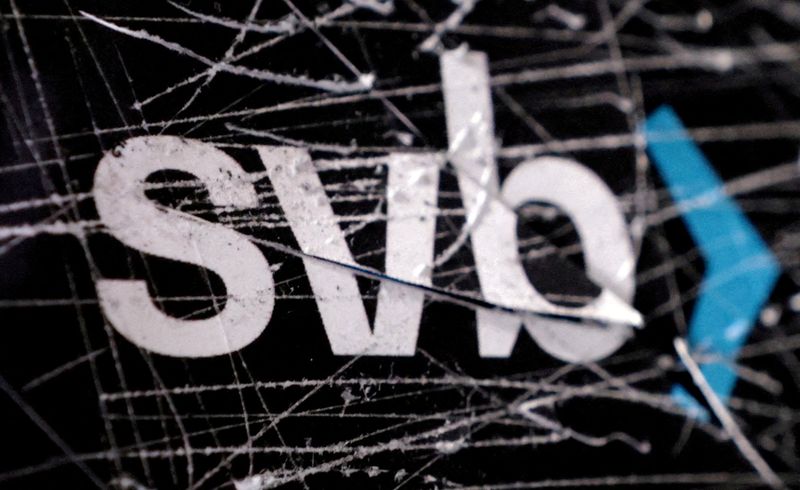 © Reuters. FILE PHOTO: Destroyed SVB (Silicon Valley Bank) logo is seen in this illustration taken March 13, 2023. REUTERS/Dado Ruvic/Illustration/File Photo
By Dietrich Knauth
(Reuters) – SVB Financial Group said on Tuesday the US Federal Deposit Insurance Corporation had taken "improper actions" to cut it off from cash held at its former subsidiary Silicon Valley Bank, which was seized by regulators to stem a national bank run.
SVB Financial made the allegations in court filings ahead of its first bankruptcy hearing on Tuesday afternoon in Manhattan. It filed for Chapter 11 protection about a week after California banking regulators on March 10 closed Silicon Valley Bank in the largest US bank failure since the 2008 financial crisis.
The collapse this month of the Santa Clara, California-based bank and Signature Bank (NASDAQ: ), another US midsized lender, prompted a rout in banking stocks as investors worried about other ticking bombs in the banking system and led to UBS Group AG (SIX: )'s takeover of 167-year-old Credit Suisse Group AG to avert a wider crisis.
SVB Financial is exploring options, including a potential bankruptcy sale, for its venture capital and investment banking units, which were not included in the FDIC takeover of Silicon Valley Bank, while continuing to operate its businesses, it said on Monday.
The company, which has about $2 billion in cash at its former subsidiary, said in court filings that the FDIC receiver had blocked a $250 million wire transfer, removed $19 million from an SVB Financial bank account, and attempted to claw back payments to SVB Financial's bankruptcy attorneys and financial advisors, among other "improper actions."
The company has asked US Bankruptcy Judge Martin Glenn, who is overseeing its Chapter 11 process, to allow it to move funds held at Silicon Valley Bank to a different bank.
But the FDIC said in Tuesday court filings that it had placed a hold on all of SVB Financial's bank accounts, as part of its investigation of potential claims against the bank's former parent. That action was a legal and necessary part of stabilizing banking operations during the transfer to new management, according to the court filings.
SVB Financial and two top executives were sued last week by shareholders who accused them of concealing how rising interest rates would leave the Silicon Valley Bank unit "particularly susceptible" to a bank run.
SVB Financial did not immediately respond to a request for comment.
SVB Financial has $3.4 billion in debt and it manages about $9.5 billion of other investors' money across its portfolio of venture capital and credit funds, according to court filings. Silicon Valley Bank was SVB Financial's largest asset, accounting for more than $15.5 billion of SVB Financial's $19.7 billion in total assets.