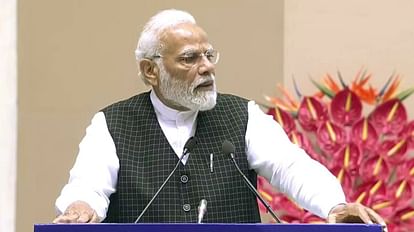 PM Modi (file photo)
Photo: ANI
Expansion
Prime Minister Narendra Modi will inaugurate the 'Global Millets (Shri Anna) Conference' in New Delhi today. On this occasion, PM Modi will release a postage stamp and coin on the International Year of Millets (IYM)-2023. Will also address the participants participating in this two-day conference. Union Agriculture and Farmers Welfare Minister Narendra Singh Tomar will also address the inaugural session.
Video messages from the heads of state of Ethiopia and Guyana will be played during the opening ceremony. Agriculture ministers of six countries will also be present in the programme. There will also be round table sessions and bilateral meetings with Agriculture Ministers. The global conference is expected to see participation from more than 100 countries and several stakeholders from across the globe will participate in the event.
The Government of India aims to make the International Year of Millets 2023 a mass movement for the overall benefit of farmers, consumers and the climate. To take this forward, the Government of India has adopted a multi-stakeholder collaborative approach to achieve the goals of IYM 2023 and establish India as the 'Global Hub of Millets'. It includes farmers, start-ups, exporters, retail businesses, hotel associations and various government bodies in India and abroad. The year 2023 will witness a year-long campaign and several activities at the national and international level for the adoption and promotion of millets.
,



Read More about Breaking News