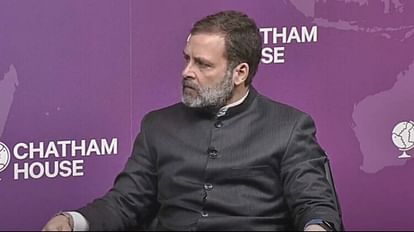 Congress leader Rahul Gandhi.
Photo: ANI
Expansion
Congress leader Rahul Gandhi addresses British MPs at the House of Parliament complex in London on Monday. Rahul said that often the opposition's mikes are silenced in the Lok Sabha. Rahul Gandhi also shared the experiences of his 'Bharat Jodo Yatra' during the program organized by Indian-origin opposition Labor Party MP Virendra Sharma in the Grand Committee Room of the House of Commons and termed it as a big political program to connect people.
He used a faulty microphone to make his point and alleged that this is how the opposition is being wiped out in India. Former Congress President told British MPs that our mics are not bad, they are working, yet you cannot turn them on. This has happened many times during my speaking.
Questioning demonetisation, the Congress MP said that demonetisation was a disastrous financial decision. We were not allowed to discuss it. We were not allowed to discuss GST. We were also not allowed to discuss the issue of Chinese troops entering Indian territory. Rahul Gandhi said that I remember a Parliament where there was lively discussion, heated debate, argument, disagreement, but we talked. And, this is clearly what we miss in Parliament. We have to use debate to fit into other debates.
Rahul targeted the RSS
Rahul Gandhi said that the nature of the democratic process in India has completely changed and this is because an organization called RSS, which is a fundamentalist, fascist organization, has basically taken over all the institutions of India . He said that it surprised me how successful they have been in getting hold of various institutions of our country. Press, Judiciary, Parliament and Election Commission are all under threat and controlled in one way or the other.
He said that in India, you can see what is being done for Dalits, Adivasis and minorities. It is not that this Congress is saying this. Such articles keep appearing in foreign media all the time that there is a serious problem in Indian democracy. You can ask any opposition leader how agencies are used. I had Pegasus on my phone, which was not happening when we were in power.
Rahul said that they (China) are sitting by occupying 2,000 sq km of our territory. Our prime minister said in a meeting with opposition leaders that not even an inch of India's land has been taken. Army knows it but our PM says they are not there. It encourages them.
Rahul compared Russia to China
Rahul Gandhi said that the basic principle which has been implemented in Ukraine is that Russia has told Ukraine that we do not accept your relations with Europe and America and if you do not change this relation, We will challenge your territorial integrity. I think the same thing is happening on the borders of my country. China does not want us to have relations with America. He is threatening us by saying that if you continue with the US, we will take action. That's why China has sent military teams to Arunachal Pradesh and Ladakh.
In my view, the basic idea behind China sending troops to Ladakh and Arunachal Pradesh is the same as what is happening in Ukraine. I mentioned this to External Affairs Minister Dr. S. Jaishankar, but he completely disagrees with me and thinks my idea is nonsensical.