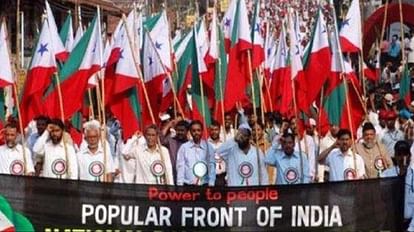 NIA: PFI
– Photo: PTI (File Photo)
Expansion
New revelations are being made daily in the charge sheet of the National Investigation Agency 'NIA' regarding the organizations involved in terrorist and subversion activities. While the Popular Front of India (PFI) has harbored the nefarious intention of making India an 'Islamic' state by 2047, global terrorist organizations like 'IS' are also helping in furthering this intention in many ways. In the charge sheet filed by the NIA against 68 accused belonging to PFI, it has been revealed that they were engaged in fulfilling their objective through a dangerous strategy. A separate wing was formed for this. The 'Crypto-BTech-IED' nexus has also been revealed in another charge sheet of the probe agency. Funds are being transferred by IS to its operatives from abroad through crypto currency. Radicalized youth with B.Tech qualification are preparing IEDs at the behest of IS.
Muslim youths were tricked
According to the charge sheets filed by the National Investigation Agency on Friday in two separate cases, 68 PFI activists in Kerala and Tamil Nadu were working towards making India an Islamic state. The number of charge sheets filed by the NIA in the PFI case has gone up to four. The first charge sheet was filed on March 13 in Jaipur and the second charge sheet in Hyderabad on March 16. PFI workers were tricking the Muslim youth and taking them on the path of radicalism. For this, they were given training ranging from weapons training to making IEDs, conducting terrorist attacks and raising funds.
Read also: NIA: National Investigation Agency files charge sheet against two IS members and 68 PFI leaders, claims this
,



Read More about Breaking News