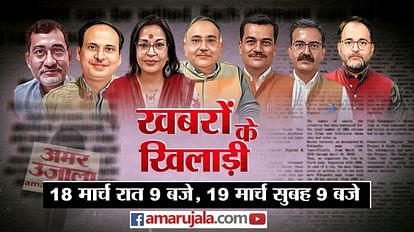 news player
– Photo: Amar Ujala
Expansion
We are here once again with the fourth episode of Amar Ujala's special show 'Khabaron Ke Khiladi'. This funny election discussion can be seen on Amar Ujala's YouTube channel at 9 pm on Saturday and 9 am on Sunday.
Uproar over Rahul Gandhi's statement on foreign soil is still going on and the Parliament of the country is stalled on this issue. The opposition is focusing only on the Adani case instead of issues like inflation, unemployment. At the same time, the government is adamant on Rahul Gandhi's apology. … So let's know what are its political implications and what is the opinion of the analysts on this whole issue. Present with us for discussion today are Vinod Agnihotri, Sumit Awasthi, Harshvardhan Tripathi, Awadhesh Kumar and Renu Mittal. Read some parts of the discussion….
Sumit Awasthi
The ruling party is demanding an apology for the statement made by Rahul Gandhi after going abroad, but it is important that what the public has to think about it? Do the people of the country want to hear an apology from Rahul Gandhi or is it being unnecessarily made an issue? There is a similarity in the statements of George Soros and Rahul Gandhi, in such a situation, the question arises whether foreign forces are involved in this? If SEBI is probing the Adani case, is the opposition's demand for a JPC correct? Prime Minister Narendra Modi's image is his strength, so the opposition is trying to target his image with the Adani case. The house should run and the ruling opposition should run the parliament by dialogue. This is the responsibility of both the parties.
,



Read More about Breaking News