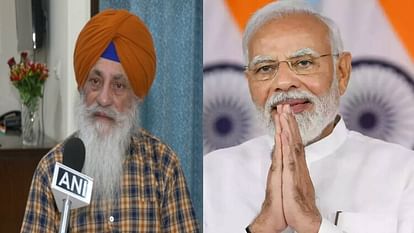 Former Khalistan leader Jaswant Singh and PM Modi
– Photo: Social Media
Expansion
Founder of Dal Khalsa organization and former Khalistani leader Jaswant Singh Contractor says that Prime Minister Modi has done a lot for the Sikh community. He said that Prime Minister Modi has great respect for the Sikh community and has done many things for its people. He opened the Kartarpur Corridor, made people aware about Chhote Sahibzads and stopped blacklisting people. Jaswant Singh Contractor said during an interview that the Modi government has accepted many big demands and some more are going to be considered.
'Amritpal Singh knows nothing about Khalistan'
Former Khalistani leader Jaswant Singh also criticized Amritpal Singh, head of the Waris Punjab De organization. Let us tell you that Amritpal Singh had recently come into the limelight regarding the clash with the police in Ajnala, Punjab. The contractor said that Amritpal Singh does not know anything about Khalistan. He said that Amritpal is not a Khalistani and he does not know anything about it but he will earn a lot of money in the name of Khalistan.
read this also- Australia: Khalistani supporters shut down Indian Embassy in Brisbane, waved posters against Hindus
,



Read More about Breaking News