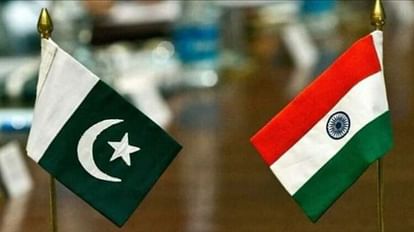 India-Pakistan
– Photo: Social Media
Expansion
India's Deputy High Commissioner to Pakistan Suresh Kumar addressed the Lahore Chamber of Commerce and Industry (LCCI) on Friday. During this, he made it clear that trade relations with Pakistan were never terminated by India. He also said that we want to move forward towards normalizing trade relations.
According to the news of Dawn newspaper, the Indian High Commissioner said, 'India always wants better relations with Pakistan because we cannot change our geography.' He said that we want to move towards normal relations with Pakistan. We didn't even stop trade with Pakistan. Pakistan itself has stopped trade relations.
"It would be better to see how we can change our problems and situations," Kumar said.
Explain that after the abolition of Article 370 from Jammu and Kashmir in 2019, Pakistan suspended bilateral trade with India and expelled its High Commissioner in Islamabad.
India has maintained that it desires normal neighborly relations with Pakistan. It was emphasized from the Indian side that Pakistan should end terrorism and not encourage terrorists. It is Pakistan's job to ensure this.
The number of visas declined due to Corona
The data shows that trade with Pakistan stood at USD 329.26 million in 2020-21 and USD 830.58 million in 2019-20. They agreed that there has been a decline in the number of visas issued by the Indian Embassy to Pakistani nationals during the COVID-19 pandemic. Nonetheless, he insisted that number had now increased, as 30,000 visas were being issued each year, which he said was "a huge number".
Kumar said the Indian government is also issuing medical and sports visas to Pakistanis. He said that gone are the days when diplomacy focused on compiling political reports. He said that today's diplomacy revolves around tourism, trade and technology, because money has its own language.
He further cited the example of China. That said, India was currently trading USD 120 billion with China, with the balance of trade being towards China. He stressed that imports 'are not always wrong and have advantages too'.
Kumar said that India is on its way to become one of the largest economies. He further added, 'Our service sector has grown tremendously and now we are focusing on manufacturing like automobile and electronics manufacturing.'
LCCI President Kashif Anwar said that it was generally thought that improving economic relations between India and Pakistan was a complex issue that required addressing several political, economic and social factors.
"We are of the view that the most important step that can be taken is to improve economic relations between India and Pakistan," he said. That is to normalize trade relations. This will bring substantial economic benefits to both the countries equally.
,



Read More about Breaking News