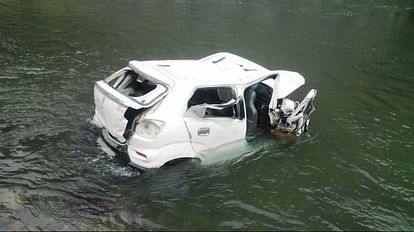 Car fell in the river.
Photo: Samvad
Expansion
Four youths of Shimla district were killed when a car went out of control and fell into the Tons river on the Quanu-Meens road. On the other hand, in Baddi, four youths from Uttar Pradesh, who were going on a bike to deliver duty in an industry, lost their lives in an accident when their bike collided with a bus.
Police have registered cases regarding both the road accidents and started investigation. According to the information received from the police, after the car (HP 08A-4323) fell in the Tons river at 5:00 am on Sunday, the nearby villagers pulled out the four youths trapped in the car after a lot of effort, but by then they had died. Went.
The administration and the SDRF team have filled the panchnama of the dead bodies and sent them for postmortem. The deceased have been identified as Sandeep (34) s/o Atmaram r/o Village Dharan, Tehsil Chaupal, Amarjit (36) s/o Mastram, Village Bagahar Tehsil Chaupal, Praveen Zinta (28) s/o Kewal Ram Zinta r/o Dhadhu, Tehsil Nerva Mohit (28) s/o Bhan Singh r/o Kalara has originated as Tehsil Nerwa.
The four youths were going from Vikasnagar in Uttarakhand towards Nerwa in Chaupal tehsil of Shimla district of Himachal Pradesh. Meanwhile, suddenly the car went uncontrolled and fell into the Tons river about 400 meters below the road.