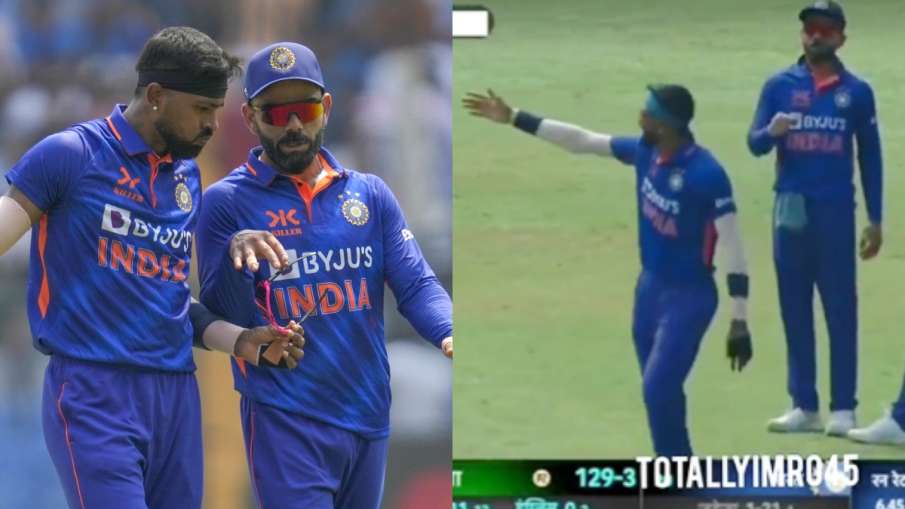 India vs Australia 1st ODI: The Indian team defeated Australia by 5 wickets in the first ODI. With this, India took a 1-0 lead in the series. KL Rahul and Ravindra Jadeja played brilliant innings for India. It was because of these players that Team India was successful in registering victory. Jadeja won everyone's heart with his all-round performance. This was Hardik Pandya's first ODI match as captain, but a video is going viral on social media, in which he is seen ignoring former captain Virat Kohli's words.
Hardik Pandya did such a thing
When the Australian team was batting, Kuldeep Yadav was bowling in the 20th over. Then Virat Kohli, Captain Hardik Pandya and Kuldeep were talking among themselves. Then Virat is seen pointing something in front, but Hardik does not listen to him and moves forward, after which Virat Kohli is seen very angry. After this, Kohli goes to the other side saying something, whose video is going viral on social media.
Captained in ODIs for the first time
Hardik Pandya came down to captain in ODIs for the first time. He has become the 27th player to captain India in ODIs. India's first captain was Ajit Wadekar. Team India's regular captain Rohit Sharma could not play in the first ODI against Australia due to family reasons. For this reason, Hardik took over the responsibility of captaincy.
Team India won the match
Batting first, Australia gave a target of 189 runs to the Indian team, which the Indian team achieved by losing 5 wickets. Australia lost the last six wickets within 19 runs in 7.5 overs. Mohammad Shami and Mohammad Siraj bowled amazingly for India. Both these players got 3-3 wickets. India did not get off to a good start with the bat. When Team India openers Shubman Gill and Ishaan Kishan were out early. After this, KL Rahul scored 75 runs and Ravindra Jadeja scored 45 runs to give victory to the Indian team.