An undated photo of radical preacher Amritpal Singh who reportedly evades arrest after police launch a massive crackdown against him and his aides in Amritsar. file | Photo Credit: PTI
A manhunt was still on to nab radical Sikh preacher and Khalistan sympathizer Amritpal Singh, police said.
"He is now a fugitive and we are looking for him and we will arrest him soon," Jalandhar Police Commissioner Kuldeep Singh Chahal told reporters near Nakodar in Jalandhar late Saturday night.
Mr. Chahal said six to seven gunmen of Amritpal Singh have been arrested.
The Punjab Government had on Saturday launched a Major crackdown against Amritpalwith police arresting 78 members of an outfit headed by him, officials said.
The elusive preacher himself, however, gave the police a slip and escaped their dragnet when his cavalcade was intercepted in Jalandhar district. As the operation went underway, authorities stepped up security at several places and suspended internet and SMS services in the state till Sunday noon.
Police on Saturday launched a "massive State-wide cordon and search operations (CASO)" in the State against the members of the ' Waris Punjab DeThe group, headed by Singh, against whom several criminal cases have been registered.
Seventy-eight persons have been arrested so far, while several others have been detained for questioning, they said.
Police searched our residence for 3-4 hours, didn't find anything illegal: Singh's father
Father of the pro-Khalistan leader said the Punjab Police conducted searches at his residence in Amritsar but did not find "anything illegal".
Tarsem Singh, Amritpal's father, said the police should have arrested him before he left the house.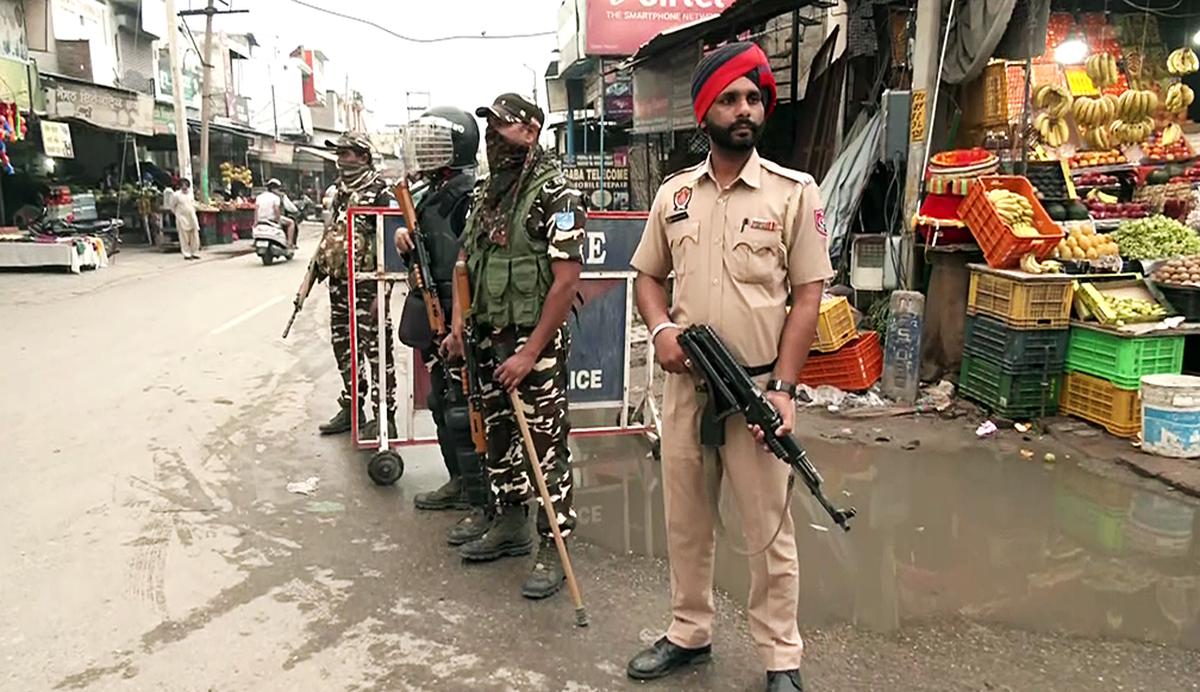 Paramilitary personnel stand guard at Mehatpur village after the arrest of associates of Waris Punjab De chief Amritpal Singh, in Jalandhar on Saturday. , Photo Credit: ANI
"We don't have any information about his whereabouts. They carried out a search at our residence for 3-4 hours but did not find anything illegal. Police should have arrested him before he left home," said Tarsem Singh in an exclusive interview with ANI on saturday.
The police action came a day ahead of the start of Amritpal Singh's ' Khalsa Wahir' — a religious procession — which was to start from Muktsar district.
During their State-wide operation, police seized one .315 bore rifle, seven 12 bore rifles, one revolver, and 373 live cartridges of different caliber, they said.
Security has been tightened at many places in Punjab with an intensive vehicle checking.
A police spokesperson said that the followers of Waris Punjab De', or WPD, are involved in four criminal cases relating to spreading disharmony among classes, attempt to murder, attack on police personnel, and creating obstructions in the lawful discharge of duties of public servants.
An FIR dated February 24 stands registered against WPD elements for the attack on Ajnala Police Station.
Last month, Amritpal and his supporters, some of them brandishing swords and guns, broke through barricades and barged into the Ajnala Police Station on the outskirts of the Amritsar city, clashing with police for the release of one of Amritpal's aides.
After the incident, in which six policemen including a Superintendent of Police rank officer had suffered injuries, the AAP government in the State had faced severe flak and was accused of kowtowing to extremists.
Dubai-returned Amritpal Singh was last year anointed the head of ' Waris Punjab De', which was founded by actor and activist Deep Sidhu who died in a road accident in February last year.