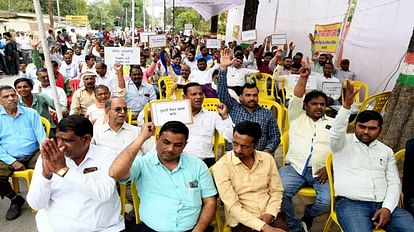 Power corporation workers boycotted work
– Photo: Amar Ujala
Expansion
The agitation by the power workers against privatization and reduction in service conditions continued on Thursday. Executive Engineer, SDO and Junior Engineer along with other employees demonstrated by stopping the work. This has affected the power supply. Supply from many sub-centres remained stalled for hours. On the other hand, the employees of Purvanchal Vidyut Vitran Nigam Limited have gone on a token strike after talks with the corporation management failed.
Ledhupur sub-station remained closed for about three hours due to the movement of electricity workers. The Vidyut Karmachari Samyukta Sangharsh Samiti claims that Pisaur sub-station, Pandeypur Nai Basti sub-station for eight hours and Kashi Vidyapeeth sub-station remained closed for six hours. There have been a lot of faults at the local level.
Due to this, the consumers connected to Salarpur, Akashvani, Shaktipeeth, Pandeypur, Manduwadih sub-centres had to face problems. On normal days, the fault which used to be rectified in thirty minutes, took two to three hours to get rectified. The faults of many sub-stations could not be rectified.
Work boycott successful, now turn of symbolic strike
Sangharsh Samiti's media in-charge Ankur Pandey called the movement successful and said that the work boycott has been completely effective. Electricians are united. This time assurance will not work. Power supply was interrupted due to work boycott. The claim made by the corporation management to restore the supply has not been successful. However, since 10 pm on Thursday, the workers have gone on strike for 72 hours. No work will be done during this period.
,



Read More about Breaking News