File image of Lt Col Vinay Reddy. Photo: Special Arrangement
The mortal remains of two Army pilots—Lt Col VVB Reddy and Major Jayanth A, who lost their lives in a helicopter crash near Mandala, Arunachal Pradesh would be flown to Hyderabad and Madurai respectively by an Indian Air Force plane on Friday afternoon.
After a wreath laying ceremony at Tezpur, the flight is expected to leave from the Air Force Station Tezpur base at 2 pm. The body of Lt Col Reddy will reach Hyderabad around 6 pm while the Air Force plane carrying the mortal remains of Major Jayanth will touch down at Madurai airport at 8 pm, according to the Army officials in Hyderabad.
Lt Col Reddy's body is likely to be taken to Bommalaramaram village in Keesara mandal of Yadadri district for last rites. His wife Spandana is a dentist working in the Armed Forces Medical College in Pune. Lt Col Reddy leaves behind his wife and two daughters.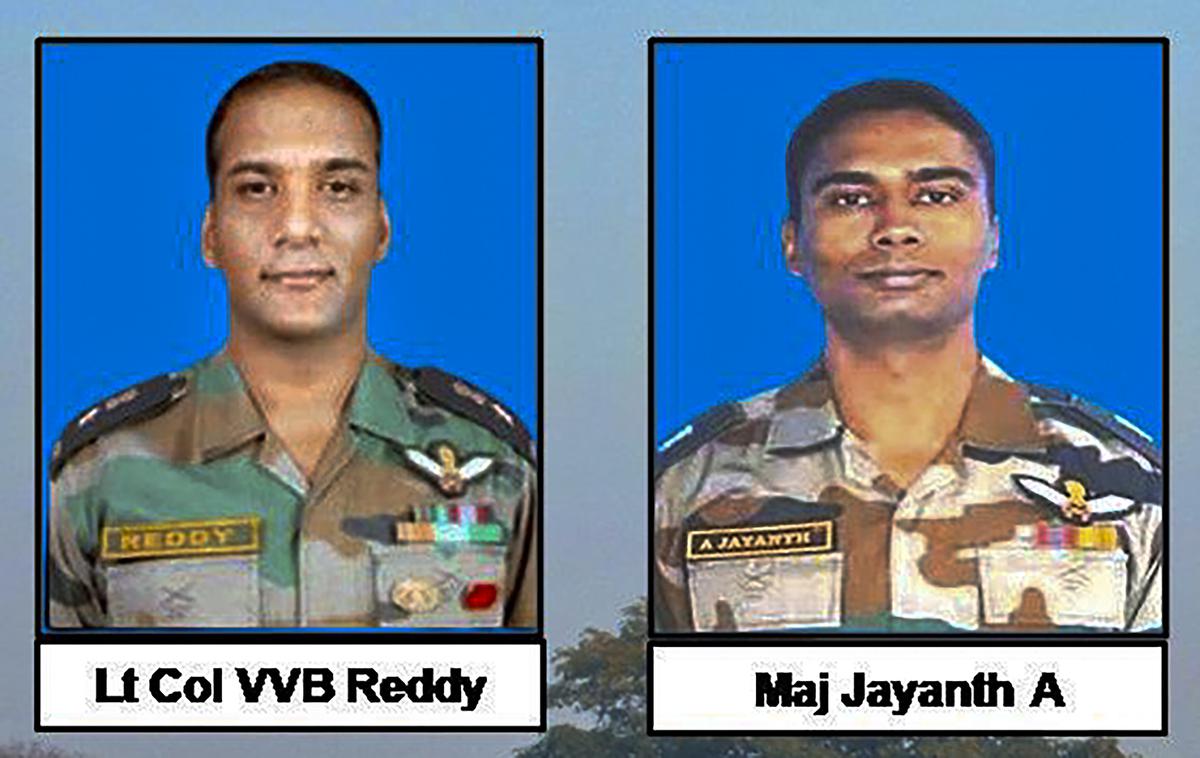 Lt Col VVB Reddy and Major Jayanth A. File. , Photo Credit: PTI
Shakeel Ahmed, Dy General Manager, Rail Land Development Authority, Secunderabad, a close friend of V. Narasimha Reddy, father of Lt Col Reddy said body is expected in the evening at Begumpet Airport.
"Lt Col Reddy's wife has left for Tezpur from Pune and will accompany the body to Hyderabad," he said adding that Mr. Narasimha Reddy and parents of Ms. Spandana along with the daughters of the pilot are taking a flight from Pune to Hyderabad this afternoon.
Lt. Col Reddy's parents shifted to Hyderabad from Bommalaramam 25 years ago. His father used to work for Republic Forge Company (RFC) and settled in Durganagar Colony in Malkajgiri. Mr. Shakeel said the deceased pilot was very intelligent and focussed on joining the defense forces right from his childhood. Lt. Col Reddy's elder brother Uday Reddy is settled in US
An Army release on Thursday said an Army Aviation Cheetah helicopter flying an operational sortie near Bomdila, Arunachal Pradesh lost contact with the ATC at around 09:15 AM on March 16.
"Five search parties of Indian Army, SSB and ITBP were immediately launched. The wreckage of the aircraft was found near Village Banglajaap East of Mandala. With regret we inform that the pilot and the co-pilot of the helicopter lost their lives in the accident. An investigation is being ordered to ascertain the cause of the accident," the release said.
,



Read More about Breaking News